Nanoparticle generation via spark discharger
i. Silver nanoparticle : antimicrobial agent.
ii. Nanoparticle coating for anti-microbial air filter
The Leviviridae family (linear (+)ssRNA, encodes four genes)
Host bacterium: Escherichia coli C3000
Diameter: 275 Å (27.5nm)
Safe for handling, similar in physical and resistance characteristics as human pathogenic viruses
Plaque Forming Unit (PFU) analysis
Electrohydrodynamic (EHD) Technology
i. Electrospinning
Electrospinningis a novel process of producing fibers that consist of good physical properties.
Electrospinningis a method for obtaining nanofiber (100nm to 800nm), and a jet is ejected from a charged polymer solution when the applied electric field strength overcomes the surface tension of the solution.
The ejected jet then travels rapidly to the target collector located at some distance from the charged polymer solution under the influence of the electric field and becomes a solid polymer filament as the jet dries. This electrospinning process is used to get nano fibrous web which is high filtration efficiency.
ii. EHD jet printing
Electrohydrodynamic (EHD) jet printing has beenproposed as viable non-contact printing technique.
EHD jet printing is a method for obtaining fine patterns with diameters ranging from nanometres to micrometers, which uses a fine jet generated at the apex of liquid meniscus in electrospray.
Generally, the diameter of the jet is much smaller than the nozzle diameter. Therefore, the EHD jet printing enables to obtain highresolutionpatterns without miniaturizing the nozzle.
Aerosol agglomeration
Objective :to increase particle size of fine/ultrafine particles for high efficiency electrostatic precipitation or filtration.
Particle grows by colliding each other (agglomeration).
To increase the number of particle collision, disturbance was applied to particle path (AC electric field, ultrasonic wave).
i. Electrical agglomeration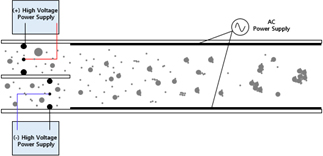 Bipolar charged particles were exposed to AC electric field to increase probability of collision between particles.
ii. Acoustic agglomeration
Ultrasonic waves were applied to particle path to increase probability of collisionbetween
iii. Experimental result
Particle concentration decreased, and the particle size increased.
→ Particle was agglomerated.